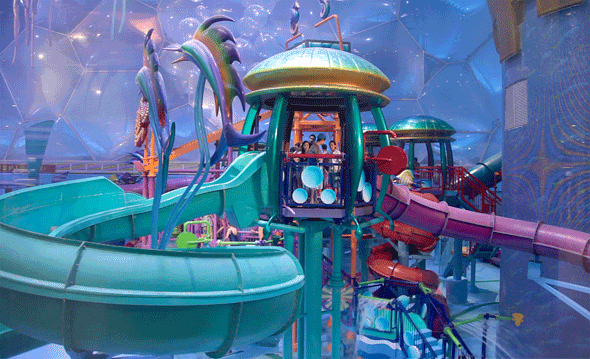 It's New Year in Australia! Here in Latvia, 2011 is still lingering and we're having a quiet beer before we head out to Freedom Square to celebrate with the locals.
2011 has been a great year for Self Indulged Online Magazine. The magazine has been read by over 130,000 people, we've accumulated close to 7000 followers on Twitter along with over 3000 Facebook fans and subscribers and we've enjoyed the sponsorship support of some of the best in the photographic and travel business.
Special thanks to Lonely Planet, Manfrotto, Kata Bags, 1Cover Travel Insurance and Visit Finland for coming along for the ride now…and into 2012. And a huge personal thanks to everyone who has commented, read, subscribed, liked and followed in 2011.
Travel highlights of 2011 include:
Australia Day on the True North – will miss that in 2012!
Swimming in the Beijing Olympic Water Cube (the image above is the waterpark inside)
Shooting the Northern Lights in Northern Norway
Floating on an inner tube down the Li River in Yangshou, China – being careful to avoid the poop of water buffalo cooling off in the shallows (I know I haven't written about that yet…I'm guessing this will be eagerly awaited?)
Trying out our trusty tent for the first time in Outer Mongolia.
Shooting pink lightening!
Eating rancid fish in Sweden…well, it wasn't really a highlight, more of a 'mission accomplished'.
Reaching the Golden Summit after climbing 68,000 steps in Mt Emei, China.
Driving through 4 countries in 2 days. UK to The Netherlands (UK-France-Belgium-The Netherlands) OK, we caught the ferry for the UK to France bit…but it still counts.
Catching up with family and friends in London after being away for 6 years.
Seeing snow in Lapland…and cross-country skiing – we were rubbish at it!
Sleeping in a glass igloo.
Bobsledding in Latvia…my spine is still recovering from the G-forces!
Surviving the Chinese high speed rail system.
Surviving the Chinese rail system in general!!
Visiting Pandora. (Zhangjiajie National Park in China)
Camping at Tintagel.
The transiberian train ride from Beijing to Ulaan Bataar….stuck in customs for 4 hours. We were locked inside while the train was taken away to have the undercarriage changed. We were however allowed to drink beer while we waited. I challenge you to tell me where else in the world customs officials will allow you to drink openly while being 'processed'.
Tianmenshan Mountain – everything about it was a 'highlight'
Experiencing a local Nadaam celebration in Mongolia.
Eating cheap street food in Beijing with a crazy Canadian.
Always enjoying the company of other travellers, particularly in Chengdu where our RTW journey began. Especially the company of Bec & Zac who braved the Sichuan hot pot with us and Gernot who has been involved in his own EPIC adventure.
Swimming in the slimy algal waters of Qingdao…and not getting sick!
Enjoying Amsterdam for everything 'other than' it's infamous coffee shops.
Swimming in the warm waters of the Andaman Sea – Langkawi
24 hours in Feng Huang
Patting a reindeer – it was real, not stuffed.
We're hoping that 2012 will bring many more travel adventures…and hopefully some great images. We leave for Lithuania in the new year. The Hill of Crosses is first on the agenda…I can see it being on the list of 2012 highlights already. Wishing you all a healthy, happy and prosperous 2012…hoping you stick around for the ride.
Issue 6 will be out on the 14th of January 2012, subscribe HERE to join us….until then, HAPPY NEW YEAR!